The North Fork Landowners' Association invites your participation in business meetings, social events and community projects. Business meetings are held the second Sunday of the month, June-October, at Sondreson Community Hall, North Fork Road at Whale Creek. Social events and meetings by other groups are held there throughout the year. See our Calendar for all the NFLA activities.
Purpose
The purpose of this corporation, as stated in its certificate of articles of incorporation, is to promote the general welfare of the community of the upper valley of the North Fork of the Flathead River, being that portion of such valley bounded by the international border on the north, and by Big Creek and a line extending east from the mouth of Big Creek through said valley, and to construct, reconstruct, operate, maintain and regulate the use of a community building in which meeting of the corporation and other community functions may be held.
The association pursues the interests of all North Fork landowners, regardless of permanent residence, and encourages and facilitates their participation in association activities.
Joining the NFLA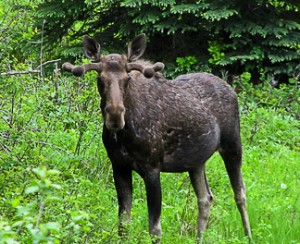 Only active members (property owners of record, their spouses and resident adult members of their immediate families) are eligible to vote at business meetings and in the annual election.
Annual dues for active members are $15 person. Dues for associate members (no voting privileges) are $10 per year.
Sign-up forms are mailed each year with a fall recruitment letter and a spring newsletter. If you would like to join the association but do not have a form, you can click here for a printable version. Mail the completed form and a check to:
The North Fork Landowners' Association
P.O. Box 1603
Columbia Falls, MT 59912
If you have a question about your membership or dues status, please e-mail the NFLA Treasurer at treasurer@nflandowners.org.
North Fork Patrol
The North Fork Patrol, with the written permission of a landowner, will check a property for evidence of trespass, poaching and external physical damage. For more information and the sign up form, see the North Fork Patrol's page.
Poaching Reward Fund
The North Fork Landowners' Association offers a reward of up to $500 for information leading to the arrest and conviction of a poacher on the North Fork.
In November 2007, in fact, a North Forker reported a poacher for shooting after dark and from a vehicle, killing a deer on private land without permission, and hunting without a license. In December, the board of directors voted to award him the full $500 reward.
To report a poacher, call (800) TIP-MONT (847-6668). To apply for the reward, see any board member.