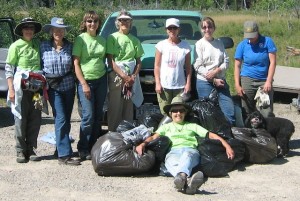 The Weed Wranglers, Weed Committee members and our North Fork neighbors have begun our third season of activities.   We will be "pulling together" to learn more about weed identification, how to deal with your weeds safely and effectively.
Weed Resources to Download
In March of 2015 Flathead National Forest, CHS, and others sponsored workshops focusing on weed identification, plant physiology, non-chemical control options, understanding chemical labels, calibrating equipment, weed law and safety. Richard Hildner and Suzanne Daniel attended and picked up some very helpful materials indeed.
Rat Out Some Weeds
So you're walking along a trail or floating the river and see noxious weeds on US Forest Service land. What do you do? Call Tris Hoffman of the USFS at 406-758-3510. Be prepared to tell her what kind of a weed, how much is there, and the location. If Tris is unavailable when you call, you can leave a message for her. It would also be a great help if you could let Tris know a phone number and/or email address so that she can get back to you if she has any questions.
Here are some links to Web sites that will help you control noxious weeds on your property:
Latest News from the Weeds Committee
Click here for all the latest news from the Weeds Committee.