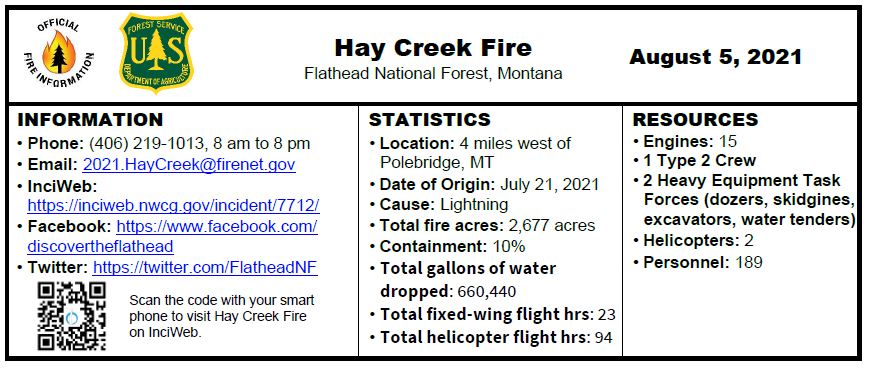 INCIDENT UPDATE
The Hay Creek Fire burned actively in dead and down fuels producing increasing smoke on Wednesday, but movement was minimal. A second heavy equipment task force arrived to help assist with operations in the Spruce Creek area. Structure protection personnel and a helitack crew completed structure wrapping of the Coal Ridge Cabin, a remote historic structure without road access. Crews are now staying in the new spike camps in the Home Ranch Bottoms/Cyclone area.
Today, crews will continue to secure and connect an avalanche slope on the west end of the fire with Hay Creek Road #376. Other personnel will scout areas north and south of the fire for additional contingency lines. Fuel reduction continues along the southern edge of the fire and on primary and contingency lines between the fire and private lands to the east and northeast. Fire personnel will continue to be in the community sharing information and planning for structure protection.
 Travelers need use extra caution in driving due to fire traffic and road construction in the area. Most of Montana is experiencing EXTREME fire danger; Stage 2 Fire Restrictions are in effect with campfires prohibited. Know Before You Go- Visit www.mtfireinfo.org for additional Montana fire restrictions.
EVACUATIONS
Evacuation Warnings include all residences east and west of the North Fork Road from Home Ranch Bottoms north to and including Moose Creek Road and the community of Polebridge. Glacier National Park has issued an Evacuation Warning for the North Fork area of Glacier National Park north of Logging Creek. See details at https://go.usa.gov/xFjcA and Current Fire Information – Glacier National Park.
CLOSURES
Road and trail closures are in place. See details at Inciweb: https://inciweb.nwcg.gov/incident/article/7712/62192/.
 WEATHER AND AIR QUALITY
Seasonal temperatures are expected today with a slight chance of a shower or thunderstorm. A front moving in on Friday will usher in much cooler temperatures and notably stronger winds later Friday afternoon through Saturday with gusts to at least 40 mph possible. A chance of showers and thunderstorms will continue through the weekend. For the most current fire weather forecast go to https://www.weather.gov/wrh/fire?wfo=mso. For smoke and air quality go to http://svc.mt.gov/deq/todaysair/. For current visibility in Glacier NP see https://www.nps.gov/glac/learn/photosmultimedia/webcams.htm.
 INCIDENT BACKGROUND
The Hay Creek Fire was reported on the evening of July 21, 2021. It is burning in the North Fork area of the Flathead National Forest at 5,200 feet of elevation and is being managed under a full suppression strategy.