REBECCA ANN BRAUNIG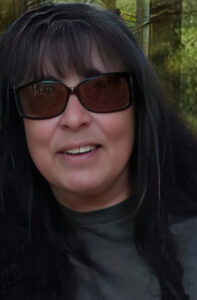 The North Fork lost a valued member of the community on May 29, 2023, with the passing of Becky Braunig, 68.
A native of Texas, Becky was a master gardener and a great source of knowledge on all things botanical. She earned a degree in horticulture from Texas A&M University in the 1970s. She began her career working for San Antonio Botanical Gardens. In 1979, she accepted a job with the San Antonio parks department. She worked there for 25 years, rising to the position of Horticultural Services Superintendent for the City of San Antonio. At the height of her career, she was responsible for more than 300 employees.
In the early 1990s, she married Stanley Haag. They came to the North Fork on their honeymoon, staying at the North Fork Hostel. It was love at first sight. Shortly afterward, they purchased property on Trail Creek Road and over several years built a retirement home there. Becky had been a full-time North Fork resident since 2004.
In addition to contributing to local gardening activities, she was an avid wildlife photographer, a member of the North Fork Landowners Association and the North Fork Preservation Association, and a volunteer with North Valley Search and Rescue.
Becky was a sensitive, kind, and generous soul. She will be fondly remembered by her many friends for her love of plants, animals, and the North Fork. And, as many would note, for the delicious stuffed jalapeño peppers she created and brought to many a North Fork potluck dinner.
She was preceded in death by her parents, Carl and Sissy Braunig and her husband Von Stanley Haag. Columbia Mortuary is handling arrangements. A memorial will be planned later this summer.