(PDF version of this document: 2021-07-28-HayCreek-FNF-Update.pdf)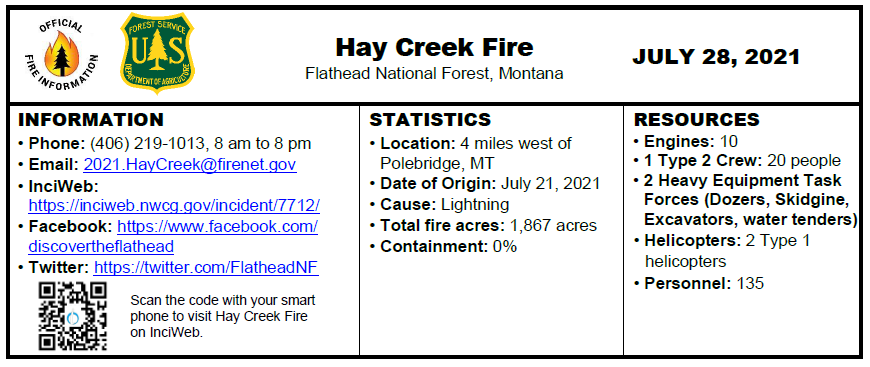 INCIDENT UPDATE
On Tuesday, afternoon cloud cover moderated fire activity during the burn period for a second day. Downslope winds from the weather cell that moved through yesterday evening pushed the fire toward the Hay Creek Road on the southwest flank; today's weather may provide an opportunity for firefighters to engage in firing operations to burn out the consumable fuels remaining between the Hay Creek Road and the perimeters of the main fire.
Crews were successful in laying approx. 7,000 feet of hose along the Hay Creek Road Tuesday, holding this line remains the priority objective for the current operational period. Heavy equipment task forces will continue work to widen existing roads to connect past silvicultural forest treatments and build contingency lines.
Monsoonal moisture from the southeast has led to increased humidity levels. However, weather trends are still seasonally hot and dry… active fire behavior will continue to be expected overnight.
EVACUATIONS
The Flathead County Sheriff's department has expanded the phased Evacuation Warning to include all residences east and west of the North Fork Road from Home Ranch Bottoms north to and including Moose Creek Road and the community of Polebridge. Glacier National Park (NP) has issued an Evacuation Warning for the North Fork area of Glacier NP north of Logging Creek. See details at https://go.usa.gov/xFjcA and Current Fire Information – Glacier National Park.
CLOSURES
Road and trail closures are in place. See details at Inciweb: https://go.usa.gov/xFjcC.
WEATHER AND AIR QUALITY
Continue reading Hay Creek Fire – Incident Update for July 28