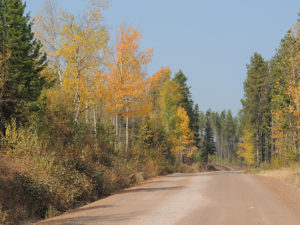 Commissioner Abell and Others:
For the record: Richard Hildner, President, North Fork Landowners Association, 350 Moose Creek Road, Polebridge, MT 59928.
Thank you for the opportunity to speak this afternoon. We applaud your effort to facilitate a multi-agency discussion on the North Fork Road and appreciate the opportunity to participate. The North Fork Community is no stranger to controversy when it comes to the North Fork Road. It was one of the topics at the inaugural meeting of the organization, June 2, 1947.
Because the subject is so divisive, the NFLA has refrained from taking a position on paving. We do, however, submit that regular maintenance and dust abatement are worthy of your attention. As an organization we are anxious to comment upon any alternatives you may develop.
It is clear from the record that any action beyond the status quo – i.e., grading and magnesium chloride – would necessitate multi-agency input, road design and costs, as well as environmental, social, and cultural considerations. This is consistent with the findings of the 2010 MDOT Corridor Study. Any consideration beyond the status quo, including the use of millings, must include cumulative and indirect impacts.
Speaking for the NFLA, we are in agreement that the North Fork Valley is a special place, valued for its remote nature, unique relationship with the local flora and fauna, and preservation of these characteristics is of the utmost importance.
Thank you for your time.
Richard Hildner
North Fork Landowners Association
PO Box 1603
Columbia Falls, MT 59912