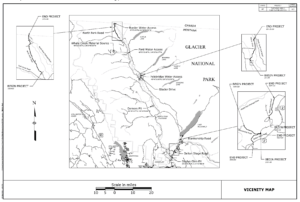 This afternoon, September 18, we received a progress report on the road construction work in the North Fork from Chris Rossmiller, a Senior Technical Specialist with the Federal Highway Administration's Kalispell Regional Project Office. The entire report is below, with some minor editing and reformatting, but here's the short version:
North end of North Fork Road — They expect to finish the culvert placement and drainage work but, most likely, the road surface refinishing will not be completed until next year. They will, however, ensure that the road is at least drivable and open for use before they shut down for the season.
Glacier Drive — They plan to finish all the Glacier Drive work this year, from the Merc property to Glacier Park, with the possible exception of seeding along the shoulders.
Here's the entire report: Continue reading Road construction project status update