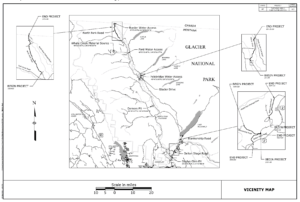 This afternoon, September 18, we received a progress report on the road construction work in the North Fork from Chris Rossmiller, a Senior Technical Specialist with the Federal Highway Administration's Kalispell Regional Project Office. The entire report is below, with some minor editing and reformatting, but here's the short version:
North end of North Fork Road — They expect to finish the culvert placement and drainage work but, most likely, the road surface refinishing will not be completed until next year. They will, however, ensure that the road is at least drivable and open for use before they shut down for the season.
Glacier Drive — They plan to finish all the Glacier Drive work this year, from the Merc property to Glacier Park, with the possible exception of seeding along the shoulders.
Here's the entire report:
I'm reaching out to provide an update on the project progress. I imagine you and all the landowners already had concerns about the project completing this season based on your visual observance of the lack of progress on the road. A few weeks ago, the contractor had a plan to add crews, shifts, and acquire another crushing subcontractor to accelerate the work to complete this season. At that point, there was still ample time to complete the work based on the schedule. Even though the crushing equipment is set up at Whale Creek pit to start crushing, they continue to miss the deadlines imposed on themselves and communicated to FHWA. Due to this, it is highly unlikely that the contractor will fully complete the project this year. There is still ample time to complete the culverts on the North Fork and to shape ditches and perform the cuts and fills on the road, but full placement of the final surfacing aggregate and turf establishment is unlikely to happen.

That being said, there is still time for the contractor to complete the Blankenship, Belton, and Glacier Drive road surfacing work this season. The test strip for placement of millings on Belton was approved on Friday [September 15]. Once the crew completes the work on Blankenship and Belton, they will move to Glacier Drive to start the road work. The plan is to complete the road surfacing on both Phase 1 and Phase 2 of Glacier drive this season. There would be turf establishment that would need to occur next season if that doesn't happen this season.

Whatever progress the contractor ends, we will ensure the road is fully back to at least the width and surfacing condition the existing road was prior to starting the work prior to leaving the areas for the year.
For more details, see:
Road construction timing and restrictions revealed at Interlocal