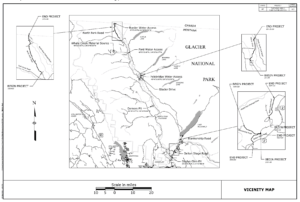 Today, November 11, we received a progress report on the road construction work in the North Fork from Chris Rossmiller, a Senior Technical Specialist with the Federal Highway Administration's Kalispell Regional Project Office:
The contractor will continue working on ditch shaping and applying tackifier on the slopes for temporary stabilization for winter shutdown this week and potentially into next. They will continue demobilizing equipment and plan to be completely off the project by sometime next week if all goes well. Once all the equipment if off the project, the road closed signs/barricades will be removed and opened back up to the general public. We will continue working with the contractor and partners to develop a strategy for completing the project in the 2024 season.
He did not mention the Glacier Drive work explicitly. I drove it yesterday. Before they pulled out, it appears the contractor got the culverts installed and the first layer of asphalt millings laid down on the section between the Glacier Park entrance and Polebridge.