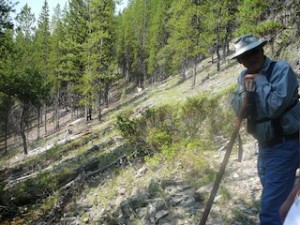 Welcome to the NFLA Library!
The NFLA Library may be found in Sondreson Community Hall and contains books and other information that have been donated to the NFLA on a number of subjects including trails, birds, insects, fish and much, much more. There is also an area dedicated to Montana authors and featuring books by local North Fork authors.
The books are housed in a beautiful handcrafted bookshelf donated in 2015 by NFLA member Kevin O'Bryan.
So how does this work? Debo Powers has volunteered to set up the library, organize new donations, develop a check-out system, keep it organized, and contact people who may have forgotten to return a borrowed book.
If you would like to donate any nature books that are specifically about the North Fork or the Northern Rockies, please contact Debo. And all you North Fork authors out there are also encouraged to donate a copy of your book as well.
If you have questions or suggestions for Debo, please contact her via her email at debopowers@gmail.com.
Following is a partial list of the books and CDs that are available for checkout.
Amphibians & Reptiles
Amphibians and Reptiles of Montana by Werner, Maxell, Hendricks, & Flath
Birds
Birding Montana by Terry McEneaney
Birds of the Rocky Mountains by Paul A. Johnsgard
Field Guide to Birds of North America by National Geographic
Owl Sounds by Division of Wildlife (CD)
Peterson Guide to Western Bird Songs by Cornell Laboratory of Ornithology (CD)
Small Mountain Owls by Scott Rashid
Stokes Field Guide to Birds (Western Region) by Donald & Lillian Stokes
Insects
A Pocket Guide to Butterflies & Moths by Elizabeth Balmer
Butterflies Through British Columbia by John Acorn & Ian Sheldon
Butterflies through Binoculars (The West) by Jeffrey Glassberg
Dragonflies and Damselflies of the West by Dennis Paulson
Field Guide to Insects of North America by Eric R. Eaton & Kenn Kaufman
Lepidoptera of the Pacific Northwest:  Caterpillars and Adults by Jeffrey C. Miller & Paul C. Hammond
Peterson Guide to Western Butterfies by J.W Tilden & Arthur C. Smith
The Moth Book by W. J. Holland
Fish
Peterson Guide to Freshwater Fishes by Lawrence M. Page & Brooks M. Burr
Mammals
Guide to Animal Tracking and Behavior by Donald & Lillian Stokes
Scats and Tracks of the Rocky Mountains by James C. Halfpenny
Plants
Edible Native Plants of the Rocky Mountains by H.D. Harrington
Golden Nature Guide to Trees by Herbert S. Zim & Alexander C. Martin
Guide to Western Mushrooms by J.E. Underhill
Medicinal Plants of the Mountain West by Michael Moore
Northern Rocky Mountain Wildflowers by H. Wayne Phillips
Peterson Guide to Rocky Mountain Wildflowers by Craighead, Craighead, & Davis
Peterson Guide to Western Trees by George & Olivia Petrides
Plants of Waterton-Glacier National Parks by Richard J. Shaw & Danny On
Rocky Mountain Flora by William A. Webber
Weeds of the West by Whitson, Burrill, Dewey, Cudley, Nelson, Lee, & Parker
Sky
Montana Starwatch by Mike Lynch
Montana Authors
A Beast the Color of Winter by Douglas Chadwick
Stars Over Montana:  The Men who shaped Glacier National Park by Warren L. Hanna
Switchback:  Bill Yenne's 50 Years in the Mountains of Montana and the West by W.J. Yenne
The Old North Trail:  Life, Legends and Religion of the Blackfeet Indians by Walter McClintock
The Wild Marsh:  Four Seasons at Home in Montana by Rick Bass
The Book of Yaak by Rick Bass
Winter by Rick Bass
Latest News from the Trails Committee
Click here for all the latest news from the NFLA Library.