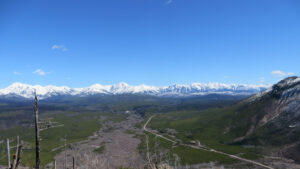 This was passed along by Diane Sine, a Glacier Park public affairs officer who is currently on assignment at the Hay Creek Fire . . .
I just wanted to make sure you have the most up-to-date information from the park concerning North Fork residents being able to use the Camas Road for pre-evacuation preparedness without having a ticketed entry reservation.
When entering the park at West Glacier, they need to tell the folks at the ticketed entry checkpoint that they are a North Fork property owner needing to get to their property for evacuation preparation. They will then be allowed to proceed to the regular West Glacier entrance station, where they will show their park pass or pay the entry fee and explain their situation and ask to be issued one of the special North Fork property owner ticketed entry passes. They will then have this ticketed entry pass which will allow them to get through ticketed entry for future evacuation preparation trips – as usual, a regular park entrance pass is also required.

Night work is still scheduled on the Camas Road Monday-Thursday starting at 7 pm for the next two weeks, so make sure folks know that they won't be able to use the Camas Road during those times.

In the event of an actual evacuation order, the Camas Road would be available for egress 24 hours with or without special passes.