Since there was a considerable kerfuffle last spring over outfitting and guiding permits in the North Fork, I thought I'd pass along the press release I received this morning concerning permits for winter activities. As near as I can tell, the only thing planned for our part of the North Fork is a series of guided snowshoe trips up the back side of Glacier View peak (Glacier View Mountain Trails #381 & 381.1). This probably won't happen because most of #381.1 has been closed since the Robert Fire – someone didn't do their homework.
Anyway, the deadline for comments is November 6. The press release has links to more detailed information.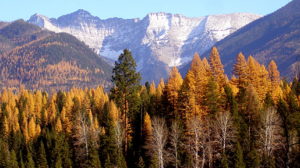 Flathead National Forest seeks input on winter recreation events and guiding services 
Kalispell, MT October 16, 2020 – The Flathead National Forest is accepting public comment on winter 2020/21 recreation events and temporary outfitting and guiding activities across the forest. The activities would take place between December 1, 2020 and April 30, 2021.
The events and activities include things like a cross-country ski event, avalanche training, snowmobile and snow bike tours, and guided skiing, among others.
The Forest Service authorizes these types of activities to expand recreation access to the public and provide tourism jobs for the local economy.
"We are incredibly fortunate to have four seasons of outstanding outdoor offerings," said Flathead National Forest Supervisor Kurt Steele. "Whether you head out with your friends and family or take advantage of a more structured opportunity offered by a guide or planned event, there is something here for everyone."
The Forest Service issues permits for these activities based on a "user day" which means that one person on a guided trip would be counted as one user day. Ten people on a one-day trip would be counted as ten user days for example.
Based upon preliminary analysis, the Flathead National Forest anticipates these projects fall within the Forest Service category of actions under 36 CFR 220.8 that may be excluded in either an environmental assessment (EA) or an environmental impact statement (EIS) and that no extraordinary circumstances exist which would preclude use of this category. Scoping comments along with additional review will determine whether these projects can be categorically excluded. These projects are specifically consistent with category 36 CFR 220.6(d)(8): Approval, modification, or continuation of minor, short-term (1 year or less) special uses of National Forest System lands.
Additional information and maps for all the projects can be found on the Flathead National Forest website. The Forest will update the website with additional information about the status of each permit as it is reviewed by specialists and any permits are issued. The public should submit comments by November 6, 2020 to comments-northern-flathead@usda.gov.