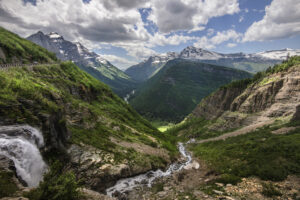 From today's press release . . .
WEST GLACIER, Mont. [December 13, 2021] – Visitors to Glacier National Park in 2022 can expect to use a ticket system to access portions of the park from May 27 through September 11, 2022.
This will be the second year of the pilot ticket system in the park, designed to manage high traffic volumes within the park and avoid gridlock.
To alleviate congestion, one ticket per vehicle will again be required to enter the Going-to-the-Sun Road (GTSR) at the West Entrance, St. Mary Entrance, and the new Camas Entrance.
In 2022, a ticket per vehicle will also be required at the Polebridge Ranger Station to visit the North Fork area of the park.
The GTSR and North Fork tickets will be two separate tickets. The park anticipates a portion of tickets becoming available by early March. Like last year, visitors will need to set up an account on Recreation.gov to obtain tickets. Although the park does not charge for the tickets, Recreation.gov charges a $2 nonrefundable service fee.
Tickets will not be required at the St. Mary Entrance prior to the full opening of the GTSR, typically in late June. Once snow removal and road preparations are complete and the road opens to vehicle traffic to Logan Pass, tickets will be required at the St. Mary entrance through September 11, 2022.
The park will offer three-day tickets for GTSR rather than the seven-day ticket offered last year, and one-day tickets for the North Fork.
The Apgar and Sprague Creek campgrounds will require advance reservations in addition to Fish Creek and St. Mary campgrounds. Reservations will be available on Recreation.gov in 2022. Rising Sun and Avalanche campgrounds will remain first come, first served. The park anticipates all campgrounds to be operating in 2022.
The 2021 pilot of the ticket system successfully reduced traffic on GTSR during peak hours and circumvented the need to fully close access to GTSR due to congestion an estimated 35 times. This was a major accomplishment despite 2021 visitation numbers currently boasting the second highest on record for the park. Avoiding gridlock also ensured access to emergency vehicles and prevented severe vehicle back-ups onto Highway 2 outside the park.
In addition to the ticket, each vehicle entering the park is required to have an entrance pass for any entry point into the park. These passes could include any one of the following: a $35 vehicle pass, good for seven days; a valid Interagency Annual/Lifetime Pass; or a Glacier National Park Annual Pass.
Visitors with lodging, camping, transportation, or commercial activity reservations within the GTSR corridor can use their reservation for entry in lieu of a $2 ticket. (The North Fork area does not offer lodging, transportation or commercial services, and camping is first come, first served.)
Park shuttles will operate in 2022. Service levels are still to be determined.
The park anticipates continued congestion at Two Medicine and Many Glacier. As in past years, entry will be temporarily restricted when these areas reach capacity. Visitors are encouraged to plan their visit outside of peak hours (10:00 am to 2:00 pm). Visitors with service reservations (e.g. boat tours, lodging, horseback ride, guided hikes) in these valleys will be permitted entry during temporary restrictions.
Park staff are currently working on details for a utility project this summer that may require the west side of Going-to-the-Sun Road to be closed at night, except for emergency vehicles. More details on this project will be forthcoming, but visitors should anticipate a late night through early morning closure from Apgar to Lake McDonald Lodge from June to September.
Recreation.gov is the designated partner of 12 federal agencies for making reservations at 4,200 facilities and activities, and over 113,000 individual reservable sites across the country. While they are a close partner, their website is not operated by Glacier National Park.
Additional details about the ticketed system are still in development. The park website will provide updates as more information becomes available.