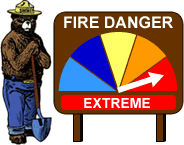 For North Forkers under pre-evacuation orders, here is some very good news from Pete Webster, Acting Superintendent, Glacier National Park. Short version: If you are under pre-evacuation orders, you can get a temporary permit at West Glacier that will let you travel both ways on the Camas Road.
Read on…
Here is a message to share with the North Fork community.
We have been communicating with the Hay Creek Fire Incident Team, Forest Service, and Flathead County on fire conditions and projections, as well as pre-evacuation warning needs. We recognize the pre-evacuation warning is an early notice for folks to prepare for actual evacuation. While actual evacuation may be days or weeks away, pre-evacuation may require several trips back and forth to North Fork properties. As such we have come up with a system to support pre-evacuation travel needs that includes Camas Road for North Fork residents within the pre-evacuation warning zone. Those qualifying residents who identify themselves at West Glacier as pre-evacuation residents will be issued a temporary permit at the West Entrance that will let them travel Camas Road each way. [emphasis added]
Residents do need to recognize that traffic at West Glacier will be heavy at times, MDT US-2 construction has been active at West Glacier, and the Camas Road construction has delays and may not be easy travel as well. My understanding is the fire incident will be grading and providing dust abatement on the bad section of the North Fork Road south of the Camas Bridge, beginning this weekend perhaps.
Monday-Thursday nighttime closures on Camas Road will remain in effect for public traffic 7pm-6am, including pre-evacuation travel for North Fork residents. Although do note, the fire incident team and the evacuation team are coordinated with the Camas construction, so the nighttime Camas closure can be adjusted to support emergency egress should that be necessary.
We are paying close attention and are in direct communication with all aspects of the Hay Creek Fire.
Thank you,
Pete Webster
Acting Superintendent
Glacier National Park