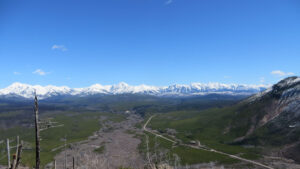 OK, everyone. Here's your chance to chime in!
From the official press release . . .
WEST GLACIER, Mont. [August 16, 2023] – Glacier National Park is seeking public feedback through September 30, 2023, on how visitors will access and experience the park in 2024. The park will host a series of virtual and in-person public meetings in late August to provide information from the past vehicle reservation pilot programs and answer questions. The public input from this process will be used to inform a strategy for summer 2024.
Over the past two decades, annual visitation at Glacier National Park has increased from approximately 1.5 million to over 3 million. Much of this use is concentrated along the Going-to-the-Sun Road corridor and other front-country destinations during the peak season of June through September.
The park is in the third summer of piloting a vehicle reservation system for major park entrances. The pilots were initiated in summer 2021 as a response to increasing issues with traffic congestion including backups onto US Highway 2, infrastructure capacity, and impacts to park resources from high concentrations of people in the most popular areas of the park. Ongoing pilot reservation systems in summers 2022 and 2023 have provided opportunities to learn more and explore their viability in achieving desired conditions in the park.
Since the park initiated the pilot, it has collected and analyzed visitor use data, as well as feedback from the local community and others, to refine the parameters of the reservation system and continue to improve the visitor experience.
"We have learned a lot from the last three years of pilot reservation systems," said Park Superintendent Dave Roemer. "We'd like to hear from the public about what has worked, what hasn't worked, and what ideas they have for managing high visitation at Glacier for 2024. We are listening, and truly need that input before we begin to develop a strategy for next summer."
There are several opportunities to learn more about this public engagement process and ask park staff questions. Scheduled meetings include:
Wednesday, August 23-Virtual meeting from 6 to 8 pm. Join by following the link at https://parkplanning.nps.gov/MeetingNotices.cfm?projectID=118357
Monday, August 28-Open house from 5:30 to 7:30 pm at the St. Mary Visitor Center on the east side of the park.
Tuesday, August 29-Open house from 5:30 to 7:30 pm at the Cedar Creek Lodge in Columbia Falls.
"The goal of this effort is to provide the best possible access while protecting the park and ensuring visitors have meaningful and enjoyable experiences," Roemer said. "This work is central to the National Park Service mission, and we are looking forward to continued engagement with our partners, communities, tribes, and park friends to make sure that happens."
The project website provides a summary of key issues, the history of visitation and visitor use management in the park, and instructions for how to formally submit comments.