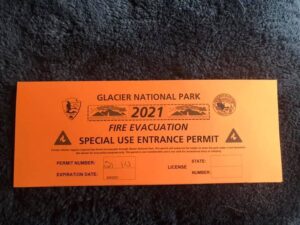 Some clarification on Glacier Park's temporary Camas Road transit permit for North Forkers under pre-evacuation orders. This is relayed via Jim Dahlstrom, Polebridge District Ranger:
This is directly from Pete [Webster, Acting Superintendent] moments ago:

They just need to drive to the ticketed entry point at West glacier and state they are NF evacuation. They will be let in to the entrance where the fee collectors will issue a placard to them. For their next trip(s) they just need to show the placard.

Trying to keep it simple for everyone. We don't need a list. Entrance will have a log of issued permits.

I did not state previously but this access goes through Monday 8/9. After that the NF road from C Falls should be good.

In case it was not clear the night closure for Camas applies to residents. No night travel M-Th.
See also: "Glacier Park offers free transit to residents under pre-evacuation orders"