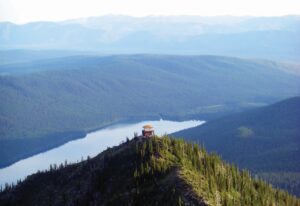 Glacier Park responded to three new fires over the last day or so, including one above Bowman Lake that closed the trail to Numa Lookout . . .
A flurry of wildfire activity in northwest Montana over the weekend didn't spare Glacier National Park, where firefighters on Monday were responding to three new starts west of the Continental Divide, according to public affairs officer Gina Icenoggle.

Among the 67 active fires reported in Montana in the last 24 hours are the Kishenehn Creek and Bowman North fires burning in an area of the park just east of the North Fork Flathead River, not far from the U.S.-Canada border. A third fire, dubbed the Brushy Incident, is burning along McDonald Creek between Packer's Roost and Mineral Creek, in the scar of the 2003 Robert Fire.