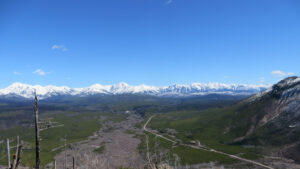 No real surprises here, except for the hint that the Polebridge entrance might be included in the ticketed entry system this summer. Reportedly, the park is not, in fact, just "exploring the possibility," they are going to do it . . .
Glacier National Park will require tickets to enter the Going-to-the-Sun Road corridor in the 2022 summer season, park spokeswoman Gina Kerzman confirmed Friday.

The park is also exploring the possibility of a ticketed entry system for the Polebridge entrance up the North Fork, she confirmed, but cautioned that has not been finalized.

Last summer Glacier often had the entrance to Polebridge closed by early morning, as parking lots filled at Bowman and Kintla lakes. The park required tickets to enter the Sun Road corridor from 6 a.m. to 5 p.m. from Memorial Day through Labor Day.