Thanks to Randi Rognlie for supplying this information . . .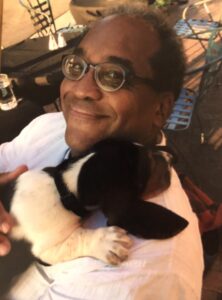 With great sadness we announce the death of Walter Melvin Roberts III on August 29, 2021. Walter is survived by his brother Anthony, extended family, and many close friends who were like family. Age 62, Walter passed from heart failure suddenly in his home in Detroit, Michigan, where he was born and raised. He was also a regular in Polebridge, Montana. A professor of Greek and Latin, Walter discovered Polebridge around 1985 as a place of solitude, study, teaching, and community. He loved jumping in the North Fork, exploring the environs, and cycling to Bowman and Kintla. Several times, he MC'ed Polebridge's famous 4th-of-July parade. North Forkers read and discussed the classics with Walter, whose laugh and smile were welcoming and infectious.
A celebration of Walter's life is planned for Sunday, May 15, 2022, 1 pm, at Square Peg Ranch in Polebridge if weather permits, or Sondreson Community Hall if not. Read Walter's full obituary at www.forevermissed.com/walter-melvin-roberts.