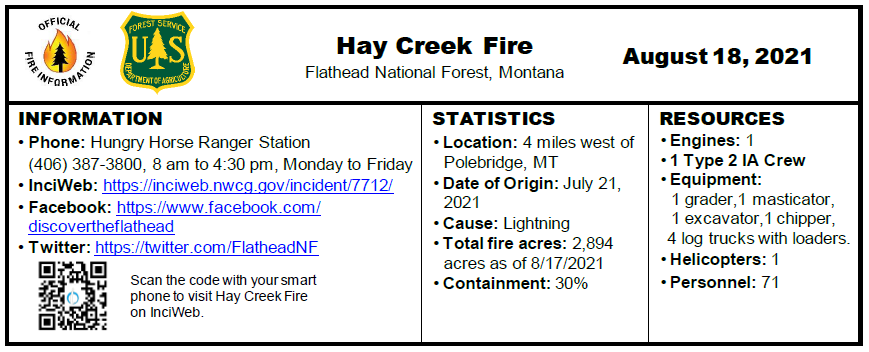 INCIDENT UPDATE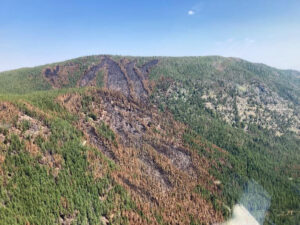 On Saturday, August 21, management of the Hay Creek Fire will be transferred to a Type 4 organization from the Flathead National Forest. A community meeting will be held at the Sondreson Hall on Thursday, August 19th, at 6:00 pm.
Crews will continue to wrap up operations involved with fuel reduction along roads and contingency lines, and patrol and mop up hot spots as needed. The helibase has been moved from the Hay Creek Incident Base in
West Glacier to the Hungry Horse Ranger Station Helibase. Equipment and supplies are being removed from the fire.
The fire received a wetting rain and snow in the higher elevations on Tuesday. From this point on, Hay Creek Fire information will be updated only as there are changes in fire activity or area trail and road closures. For current information, please visit InciWeb: https://inciweb.nwcg.gov/incident/article/7712/62192/.
Northwest Montana is in VERY HIGH fire danger; Stage 2 Fire Restrictions are in effect with campfires prohibited. Know Before You Go- Visit www.mtfireinfo.org for additional Montana fire restrictions.
EVACUATIONS AND CLOSURES
Evacuation Warnings remain in effect. See details at https://go.usa.gov/xFjcA and Current Fire Information – Glacier National Park. Road and trail closures are in place.
WEATHER AND AIR QUALITY
Moderate to heavy rain is possible for Wednesday, with more precipitation forecast for later in the week. Lows today will be from 43 to 48 degrees, with highs between 55 to 60 degrees. Polebridge weather updates: https://forecast.weather.gov/MapClick.php?lat=48.7644&lon=-114.2841#.YRccO4hKjIU
For the most current fire weather forecast go to https://www.weather.gov/wrh/fire?wfo=mso. For smoke and air quality go to http://svc.mt.gov/deq/todaysair/. For current visibility in Glacier NP see https://www.nps.gov/glac/learn/photosmultimedia/webcams.htm.
INCIDENT BACKGROUND
The Hay Creek Fire was reported on the evening of July 21, 2021. It is burning in the North Fork area of the Flathead National Forest at 5,200 – 7,100 feet of elevation. Public and firefighter safety is the number one priority. There have been no reportable injuries to date.