INCIDENT UPDATE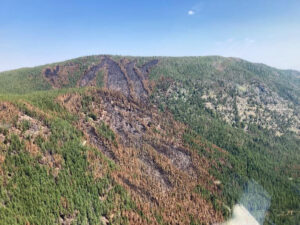 The evacuation warning for the Hay Creek Fire was lifted by the Flathead Country Sheriff on August 18, 2021. The current Type 3 incident management team will transition to a local Type 4 incident command from the Flathead National Forest on Saturday, August 21 at 0700. Hungry Horse-Glacier View Fire Management will maintain resources on the Hay Creek Fire for the foreseeable future. Crews will continue to cleanup and rehab the fire area.
The last public meeting was held on August 19. There are no more public meetings currently planned.
Hungry Horse-Glacier View Ranger District is currently evaluating rental cabins reopening and the future size and scope of area, road, and trail closures. For current information, please visit InciWeb: https://inciweb.nwcg.gov/incident/article/7712/62192/.
Stage 2 Fire Restrictions are in effect with campfires prohibited. Know Before You Go- Visit www.mtfireinfo.org for additional Montana fire restrictions.
EVACUATIONS AND CLOSURES
As of August 18, 2021 the evacuation warnings have been lifted. Road, trail, and area closures are in place. See details at https://go.usa.gov/xFjcA and Current Fire Information – Glacier National Park.
WEATHER AND AIR QUALITY
Rain showers are likely through Friday with possible thunderstorms and more precipitation forecast for the weekend. Lows today will be from 43 to 48 degrees, with highs between 52 to 57 degrees. Polebridge weather updates: https://forecast.weather.gov/MapClick.php?lat=48.7644&lon=-114.2841#.YRccO4hKjIU
For the most current fire weather forecast go to https://www.weather.gov/wrh/fire?wfo=mso. For smoke and air quality go to http://svc.mt.gov/deq/todaysair/. For current visibility in Glacier NP see https://www.nps.gov/glac/learn/photosmultimedia/webcams.htm.
INCIDENT BACKGROUND
The Hay Creek Fire was reported on the evening of July 21, 2021. It is burning in the North Fork area of the Flathead National Forest at 5,200 – 7,100 feet of elevation. Public and firefighter safety is the number one priority. There have been no reportable injuries to date.