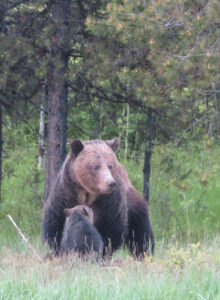 Tim Manley just posted an update to Facebook about Monica and her three cubs…
Just an update about this family group of grizzly bears.
I have been up the [North Fork] 3 times in the last 3 days and I will be up there again today.
In the past 5 days the female with 3 yearlings have gotten into two garbage cans two nights in a row. Those cans were replaced with working bear resistant Kodiak cans. The bears got into a trash trailer the next night and that has been replaced with a totally enclosed trailer. The next night they got into a pickup topper that had more than a camp stove. It had food and garbage in the truck. Last night they returned and tried to get into a different car with no garbage or food in it. They also went to another property and pushed on a trailer and were chased off by the landowner. They have been very persistent and not easy to get them to leave.
I am in the process of talking to landowners about a safe place to trap for this family group.
I am also reminding people to secure food and garbage in a way that these bears and others can't get to it. Not in vehicles because unfortunately , this family group knows to check out cars.
Please notify me of any bear activity so I know where these and other bears are causing conflicts. Thanks.
My phone number is 250-1265 and email is Tim.manley@mt.gov