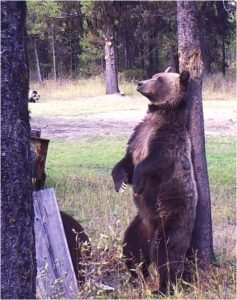 As bears emerge from their dens in the next few weeks, Montana Fish, Wildlife & Parks offers guidance for avoiding conflicts between humans and bears. Visit FWP's Be Bear Aware web pages for important tips on maintaining bear-safe residences and camping expeditions.
"You'll learn responsible ways to feed your pets, manage your garbage, landscape the yard and build electric fences to protect beehives and chickens in bear country, " said Ron Aasheim, FWP spokesman. "Managing each of these activities properly will significantly reduce conflicts between bears and people."
Learn about bear attractants, how to tell if your residence is bear-friendly, and some bear-aware tools to help keep bears wild.
If you have any problems with bears coming too close to your structures, please contact FWP Bear Management Specialist Tim Manley at tmanley803@gmail.com or call (406) 892-0802.
FWP's Be Bear Aware web page is a great resource and this perfect time to be making an assessment about attractants around your North Fork home. Please, let's keep our grizzly friends safe.