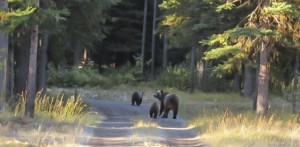 Here's the latest North Fork bear information from Tim Manley, Grizzly Bear Management Specialist for Montana Fish, Wildlife & Parks. It was posted to Facebook on Friday, May 22…
Good morning, I see there have been quite a few posts about bears on this page and other pages. I thought I would give a quick update on what I know.
The 2 female yearlings I released at Logging Cr on 4/27 were not collared. Regi got a remote camera photo of a yrlg in that area in mid May.
The 3 subadults I released on May 8th at Whale Cr and the border, are all over near Fortine and Trego.
The adult male from Helmville that was released in Coal Cr on May 8th has traveled a lot. Coal to Big to McGinnis to Apgar Range to Trout Lk to Dutch to Bowman Cr to Long Bow to Kintla Cr to Border Station to Trail Cr. I think he might be the one breeding the scraggly looking female that Dick Leigh photographed. UPDATE… the breeding pair Dick posted was from a few years ago.
The scraggly looking female had two 2-year olds that she had kicked off. She is not collared and has been seen a lot around Trail Cr and Tepee. Very distinctive.
Oattie is radio collared and just came south of the border. He has been seen and photographed around Trail Cr. We are going to try and trigger his collar to drop off… hopefully in Ogles yard.
There is an uncollared light colored female with two 2-year olds that has been seen and photographed in the Trail to Whale Cr areas. I think this could be the bear we called Betsy. Just a hunch.
There is a single uncollared bear that was seen around the Polebridge Bench for a while. I thought it was maybe Monica, until I got a report of a female grizzly with 3 small cubs in the Cyclone area. That is where Monica has denned in the past. She is not collared and I expected her to have cubs this year.
As part of the population trend monitoring program there are the following collared bears in the NFK.
A female with a 3 yr old that was still with her in Coal Cr.
A female with two 2-year olds in Big Cr.
A female with 3 new cubs in Hallowat.
A female with two yearlings in Dutch Cr
Again, sorry for the long post. I appreciate all the texts and photos that are posted and sent to me.
Have a good weekend!
Tim