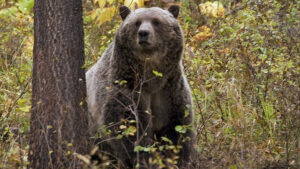 Here's the meat of the official Montana Fish, Wildlife and Parks press release concerning last Sunday's incident near the "Bubble Ups" along Trail Creek Road.

A woman was hospitalized in an encounter with a bear Sunday near the U.S.-Canada border north of Polebridge in Flathead County.
At about 3 p.m., Oct. 1, 2023, Montana Fish, Wildlife & Parks staff were notified that a woman was attacked along the bank of Trail Creek a few miles west of the North Fork Road. The A.L.E.R.T. air ambulance transported the 73-year-old victim to Logan Health Medical Center in Kalispell.
FWP wardens and bear specialists are actively investigating the incident and monitoring the site along Trail Creek known as the "Bubble ups" where the creek flows underground before rising to the surface. The site is closed while the investigation continues. The type of bear is unconfirmed at this time.
The victim was on national forestland with her husband and dog when the bear emerged from thick brush and attacked her. Her husband deployed bear spray and the bear moved away from the victim. They returned to their vehicle and drove to a location where they could call emergency services.