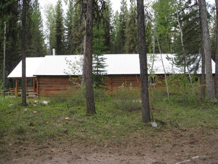 Work was completed on the Sondreson Community Hall Fuels Project in Phase 2 on May 30th and 31st.  The intent of the project was to remove surface fuels, ladder fuels, and provide space between the crowns of the remaining trees to reduce the fire hazard.   Phase 1 was completed on May 16 and 17 with the removal of the smaller diameter material as green firewood and posts.
The workday scheduled for June 21st is not needed and is CANCELLED.
The NFLA would like to thank all the Volunteers who participated, and especially Duke Hoiland for his professional falling skills and the donated use of his ATV for skidding, and Richard Hildner for the donated use of his tractor for skidding.
With the completion of the project, the North Fork Landowner's Association will receive a grant of just over $300. Contact Allen Chrisman with questions about the project or advice on your own fuels project at 406-249-6130 or chrisman@bresnan.net.
For a full report of the completed project including pictures, see Sondreson Hall Hazardous Fuels Project Completed 6.1.2014.