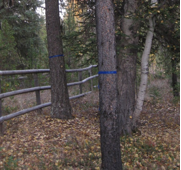 As discussed at the October Business Meeting, the NFLA Board has proceeded with application for a Hazardous Fuels Project grant from the Flathead Economic Policy Center.  Fire Mitigation Committee Member Allen Chrisman met with Mason Richwine from the FEPC on Wednesday October 16 to look at the project at the Hall.
The intent of the project is to remove surface fuels, ladder fuels, and provide space between the crowns of the remaining trees to reduce the fire hazard.  Excellent work has been done on the property to reduce surface fuels and prune the remaining trees.  This project will remove additional trees to provide more space between crowns, and prune the trees that are left.  
We are fortunate to have several nice trees of different species on site.  Several excellent western larch are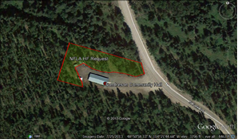 present which are the most desirable tree from a fire standpoint.  We also have some Douglas-fir, Engelmann Spruce, lodgepole pine and both cottonwood and aspen.  From a fire hazard standpoint, there is no need to remove cottonwood and aspen.
Mason traversed the unit with his GPS and came up with 0.5 acres, just under half of the total ownership.  That would make us eligible for compensation of $300 on completion of the project.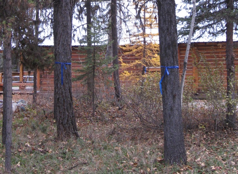 Allen Chrisman has flagged potential leave trees in the unit with blue flagging, selecting leave trees based on species, size, form and vigor.
NFLA members are encouraged to look at the marking on the project, and contact Allen Chrisman with comments or concerns at chrisman@bresnan.net.
The NFLA Board plans to begin work on the project in the spring with organized work days.