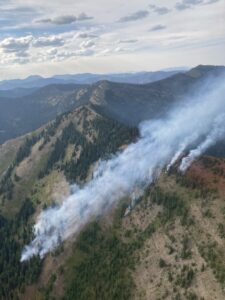 This information was just received from Ryan Butler, Assistant Fire Management Officer-Operations for the Hungry Horse-Glacier View Ranger District. Note that the Coal Ridge Fire is listed as a 10 acre blaze this morning . . .

Yesterday the Coal Ridge fire was detected by Cyclone lookout. The local Flathead Helitack flew to the fire and gave a size up of: 1acre, torching, spotting, and making short uphill runs. The fire is on the upper third of the slope on a south aspect(see attached photo). Air attack was over the fire and used heavy air tankers and heavy helicopters to attempt to keep the fire from progressing over the ridge and down slope. Due to the steep rocky terrain we determined ground crews would not be successful suppressing this fire using direct tactics. Today we will have personnel hiking in trail 2 from the Moran creek side to assess fire conditions on the ground. We will also be posting signs at the trailhead of trails: 239,2 and 4. We are currently assessing area and trail closures. We will send out more information in the days to come…
The 909 fire was also detected yesterday. Its location is west of Cyclone lake between the 909 road and a decommissioned logging road. This fire is staffed and contained. No issues or concerns.