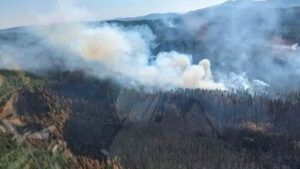 From the official press release . . .
The Evacuation Order issued on August 18, 2023, for all properties North of mile marker 146 on Highway 93 to mile marker 157.9 — Lincoln/Flathead County line, and the Residents of Good Creek Road, and those who access Good Creek west to the Lincoln County line have been downgraded to a PRE-EVACUATION WARNING and will be effective at 02:00 p.m. on Sunday, August 20, 2023.
All PRE-EVACUATION warnings issued on Thursday, August 17, 2023, are still in effect.
Residents may return to their homes under a Pre-Evacuation Warning but may need to leave again on short notice if required. An Evacuation Order may need to be reissued; however, if that is deemed necessary, the Evacuation Order process will re-commence.
For the most current information regarding evacuation status please visit https://flathead.mt.gov/department-directory/oes/emergency-management/east-fork-fire-information or call the Flathead County Office of Emergency Services Public Information Line at 406-758-2111.