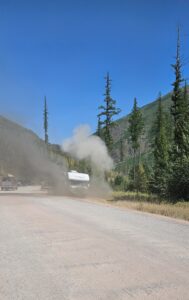 Final update (via Diane Boyd): Yesterday afternoon (Aug 2), an elderly gal from Idaho pulled her RV off to the side of the North Fork Road because she had smoke coming out from under it. In short order, it was fully engulfed in flame, which spread to the nearby vegetation. Forest Service crews had to spend several hours extinguishing a roughly 4-acre blaze and this poor lady's vacation literally went up in smoke. Diane was the second person on-scene and saw to it that the fire was reported. I've attached a photo she took.
[UPDATE, 8:20pm: The fire should be contained by nightfall.]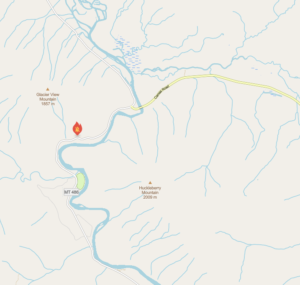 At about 5:30pm, August 2, Kevin Ulrichsen reported in over the radio…
The Glacier View fire has caused closure of the North Fork Road south of the Camas intersection. According to Kevin, an RV/camper fire at Big Creek Campground got out of hand. He said a couple of helicopters were on scene, as well as some other equipment. The fire size is listed as 3.67 acres. See attached map for an approximate location.
Note: The position in the map may be a bit off. If the fire started in Big Creek Campground, it is actually about 0.6 miles (1km) due south of the location displayed on the map. (I.e., they got the longitude right, but not the latitude.)