(PDF version of this document: 2021-07-29-HayCreek-FNF-Update.pdf)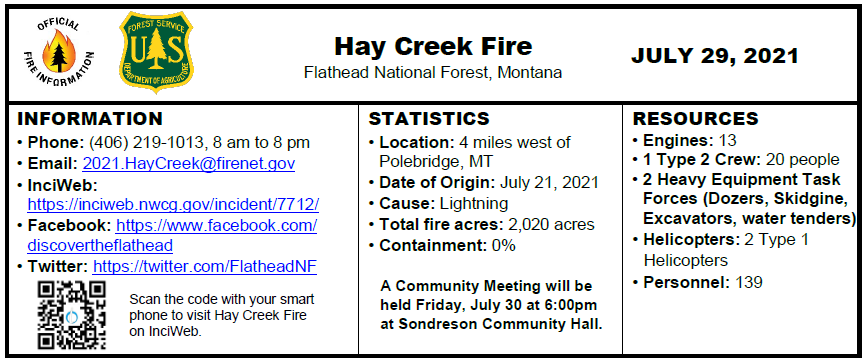 INCIDENT UPDATE
Fire activity was moderated by light rain Wednesday morning resulting in minimal smoke production throughout the day. Conditions were favorable to conduct small burnout operations to consume pockets of unburned fuel and help to hold the Hay Creek Road. Crews and heavy equipment continued to make progress strengthening fuel breaks, widening roads, and connecting past silvicultural forest management treatments. Nightshift observed single tree torching and several fire-weakened trees across the Hay Creek Road. Today fire personnel will work to cool spot fires identified south of the Hay Creek Road and continue to assess any structure protection needs. The Type 2 Incident Management Team (California 13) will transition to take over the fire on Sunday, August 1st.
EVACUATIONS
Evacuation Warnings include all residences east and west of the North Fork Road from Home Ranch Bottoms north to and including Moose Creek Road and the community of Polebridge. Glacier National Park (NP) has issued an Evacuation Warning for the North Fork area of Glacier NP north of Logging Creek. See details at https://go.usa.gov/xFjcA and Current Fire Information – Glacier National Park.
CLOSURES
Road and trail closures are in place. See details at Inciweb: https://go.usa.gov/xFjcC.
WEATHER AND AIR QUALITY
High pressure will strengthen over the area on Thursday bringing warmer temperatures and dry conditions. Winds will be 5-9 mph out of the Southwest with gusts up to 20 mph. Poor humidity recoveries in the thermal belts will allow active fire behavior throughout the evening. For the most current fire weather forecast go to https://www.weather.gov/wrh/fire?wfo=mso. For smoke and air quality go to http://svc.mt.gov/deq/todaysair/.
For current visibility in Glacier NP see https://www.nps.gov/glac/learn/photosmultimedia/webcams.htm. Continue reading Hay Creek Fire – Incident Update for July 29