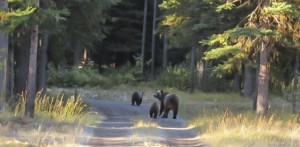 Here's the latest North Fork bear information from Tim Manley, Grizzly Bear Management Specialist for Montana Fish, Wildlife & Parks. It was posted to Facebook on Saturday, May 9 at about 7am…
Bear update… good morning. Sorry for the long post… I just wanted to provide an update on bears. We will put out a press release but that might take several days.
Two days ago we captured three 3-year old grizzly bears along the NW edge of Swan Lk. This spring they had been bouncing around between Ferndale and Woods Bay. Our first reports were from last year when they were eating grass in yards. They were also in the fruit orchards and were seen at Yellow Bay and Finley Point along Flathead Lake.
A couple of weeks ago we got reports of them getting into unsecured garbage at Woods Bay. They also got bird seed and hummingbird feeders on porches. After several days of trapping we captured them.
My thought was to release them up Spotted Bear River. Due to snow on the roads we weren't able to go down the reservoir or get to a release site up the Middle Fork.
After consulting with the FS and USFWS we decided to release them in the North Fork. Yesterday we released the two females (173 lbs and 222 lbs) in the Whale Cr drainage. We released the male (241 lbs) at the BC border. All three bears are wearing GPS collars. They haven't been aggressive at all but definitely are used to being near residences. If they show up at your place, make them leave by safely yelling, banging pots and pans or any of the other approved methods that was in the recent NFLA newsletter.
Also yesterday, in the Blackfoot Valley, Wildlife Services captured two subadult male grizzly bears at a site where a calf had been killed. The first bear was released in Glacier Park at Logan Creek. The second male was released in Coal Cr up the North Fork last night by Jamie Jonkel with MT FWP out of Missoula. Both bears are also wearing GPS collars.
Snow conditions have really reduced our ability to access other relocation sites.
After I got back to the valley, the FS contacted me about a grizzly bear that had fed on and buried a deer carcass in the Big Cr Campground. I was able to contact Jonkel and he picked up the remains of the deer. The decision was made to have people move out of the campground for the weekend and close the gate. The bear will have a couple of nights to return and realize the deer carcass is gone and then move on.
The bear (Oattie) that used to spend time in the field south of Polebridge the last few years is currently 10 miles north of the border.
Lastly, I have not had any more recent reports of the single grizzly that had been observed on the Polebridge Bench.
I didn't want to wait for the press release to notify you of our activities. Feel free to contact me if you have any questions.
Here's a video of the male being released at the border: https://www.facebook.com/tim.manley.319/videos/10221922988047890/
[Update on May 11] Just a quick update. I won't be updating all the bears movements but I wanted to let you know generally where they are since being released. The subadult male we released at the border is now near Review Mountain. The two females we released in Whale Cr are near Center Mtn. and are still together. The male that Jonkel released in Coal Creek is now in Big Creek. Oattie is now 12 miles north in BC.
Tim