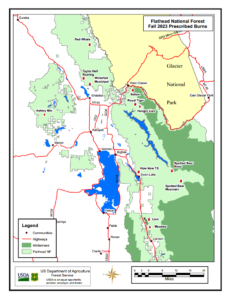 The Flathead National Forest just released its fall list of 13 prescribed burning projects. Only one, the "Red Whale Landscape" burn, is in the North Fork.
As usual, the entire plan depends on weather conditions, air quality issues and, occasionally, whether or not they can get a fire started in the first place.
Here's the write-up for our local burn . . .
Red Whale Landscape – Approximately 536 acres will be treated with prescribed burning this fall in Moose creek and Moran creek. This project location is in the North Fork of the Flathead about 4 miles northwest of Polebridge. Depending on weather, this burn is planned for mid to late September or early October. The purpose of this project is to help restore a more historical fire regime to the ecosystem, improve wildlife habitat, and reduce hazardous fuels to reduce wildfire risk and aid in potential future fire suppression efforts.
Read the full press release here and see the attached map for project locations.