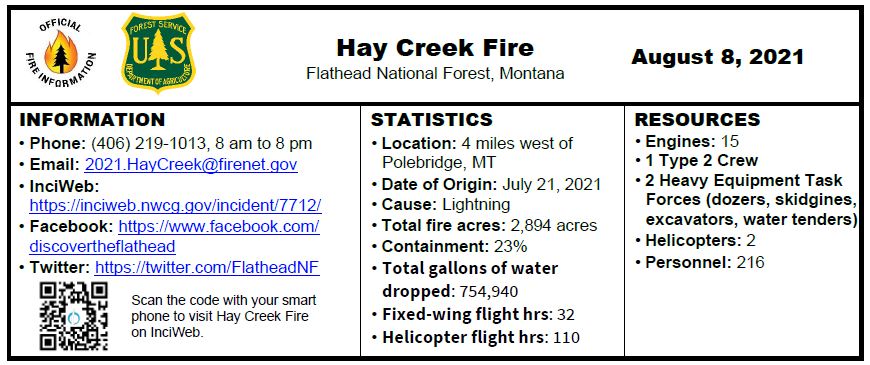 INCIDENT UPDATE
The Hay Creek Road fireline held well yesterday with the increased winds. Efforts continued to secure the more active SW edge of the fire along an avalanche chute, with a crew working this area Saturday. Some increased fire activity was seen yesterday in both edges of the fire off the Hay Creek Road, due to winds and low humidity. Strategies for fire suppression have kept fire growth minimal with 150 acres added to the fire area in the last two days.
Today crews will be improving line on the north end of the Spruce Creek area. Contingency line running north to south have been completed to the east of the fire, from the Cyclone peak area to just south of Spruce Creek. Helicopter bucket drops were again used to cool the SE area of the fire that continues to hold heat.
There are around 280 structures in the Polebridge community that are being mapped for evacuation planning purposes. There will be a community meeting at the Sondreson Hall on Wednesday, August 11, 6:00 pm.
Montana is experiencing EXTREME fire danger; Stage 2 Fire Restrictions are in effect with campfires prohibited. Know Before You Go- Visit www.mtfireinfo.org for additional Montana fire restrictions.
EVACUATIONS
Evacuation Warnings include all residences east and west of the North Fork Road from Home Ranch Bottoms north to Moose Creek Road and the community of Polebridge. Glacier National Park has issued an Evacuation Warning for the North Fork area of Glacier National Park north of Logging Creek. See details at https://go.usa.gov/xFjcA and Current Fire Information – Glacier National Park.
CLOSURES
Road and trail closures are in place. See details at InciWeb: https://inciweb.nwcg.gov/incident/article/7712/62192/.
WEATHER AND AIR QUALITY
Temperatures will continue to drop through Monday, with today's lows in the 40s, and upper 30s in some valley bottoms. High winds decreased Saturday, and the fire area saw ¼ to ½ inch of rainfall last night. There may be a break in showers Sunday, with increased chance of rain and thunderstorms during the late afternoon and evening. Flash flooding is possible in the fire area.
Isolated flooding is possible this weekend due to the forecast weather, so travelers need to drive defensively, due to fire traffic and road construction in the area. For the most current fire weather forecast go to https://www.weather.gov/wrh/fire?wfo=mso. For smoke and air quality go to http://svc.mt.gov/deq/todaysair/. For current visibility in Glacier NP see https://www.nps.gov/glac/learn/photosmultimedia/webcams.htm.
INCIDENT BACKGROUND
The Hay Creek Fire was reported on the evening of July 21, 2021. It is burning in the North Fork area of the Flathead National Forest at 5,200 feet of elevation and is being managed under a full suppression strategy.
Public and firefighter safety is the number one priority. The fire has no reported injuries to date.