Please note that there is a community meeting Saturday, July 24th at 6:00PM.  The meeting will take place at the Sondreson Community Hall parking lot.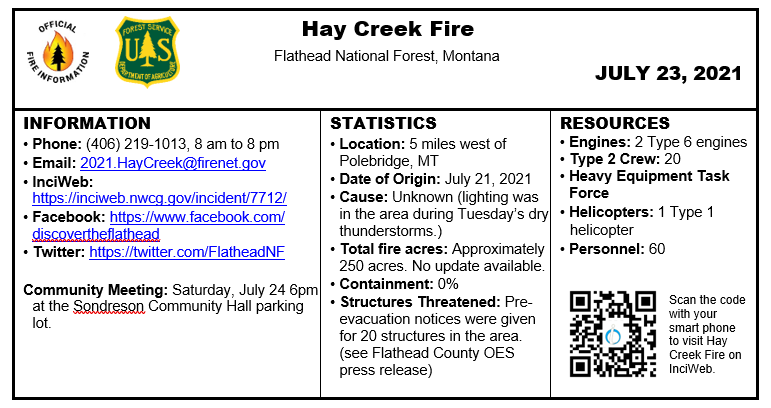 Incident Update
Resources on scene observed active fire behavior through the night. The fire is burning in the Hay Creek drainage in the North Fork of the Flathead National Forest and is being managed for full suppression. Due to safety concerns associated with steep terrain, thick timber, and current fuel conditions, fire managers are using indirect tactics. Today firefighters will continue brushing out roads and improving fuel breaks on the Hay Creek, Red Meadow, and Spruce Creek Roads, as assessing the need for future structure protection
Fire command transitioned to a Type 3 Incident Management Team 6am Friday morning, July 23, 2021.
 EVACUATIONS / STRUCTURES THREATENED
The Flathead County Sheriff's department issued 20 pre-evacuation notices to structure in vicinity of the Hay Creek Fire on Wednesday. See associated pre-evacuation notice.
Weather
Weather continues to be hot and dry with potential for gusty winds. For the fire weather forecast go to Northern Rockies Coordination Center https://www.weather.gov/wrh/fire?wfo=mso
For detailed information about smoke and air quality, visit: http://svc.mt.gov/deq/todaysair/.
Incident Background
The Hay Creek Fire was reported and responded to by initial attack resources on the evening of July 21, 2021. It is being managed under a full suppression strategy using aviation resources and indirect tactics.
Public and firefighter safety is the number one priority. Additional priorities include minimizing impacts to private property, critical infrastructure, and highway corridors. Due to high fire activity in our region and across the country, resources are limited and are prioritized to areas of greatest values-at-risk, such as threats to human health and safety.
CLOSURES (see official closure order)
The following Forest System Roads are closed due to fire activity:
FSR #115 Red Meadow Road from its terminus with the North Fork Road to its junction with FSR # 589
FSR #376 Hay Creek Road from its junction with FSR #909 to its terminus to the west
FSR #5241. TRAILS CLOSED
The following system trails:
Trail #3 Hay Creek Trail (Part of the Pacific Northwest National Scenic Trail)
Trail #26 Whitefish Divide (Part of the Ralph Thayer National Recreation Trail) from its terminus with FSR #115 to its junction with trail#14
Trail #14 Coal Ridge Trail from its terminus with Trail #26 to its junction with trail #2
Trail # 2 Moran Creek.
Travel Information
Travelers up the North Fork are asked to SLOW DOWN, maintain safe distance in dusty or smoky conditions with low visibility, and to watch for and respect one another and fire traffic.
PREVENTION MESSAGE
Stage 2 Fire Restrictions go into effect in the Flathead 12:01 a.m. Monday, July 26, 2021. Most of western Montana is experiencing EXTREME fire danger and are in Stage 2 Fire Restrictions. Know Before You Go- Visit www.mtfireinfo.org for current Montana fire restrictions.  Fire restrictions help reduce fire risk and prevent wildfire during periods of HIGH to EXTREME fire danger. Remember, one less spark means one less wildfire.