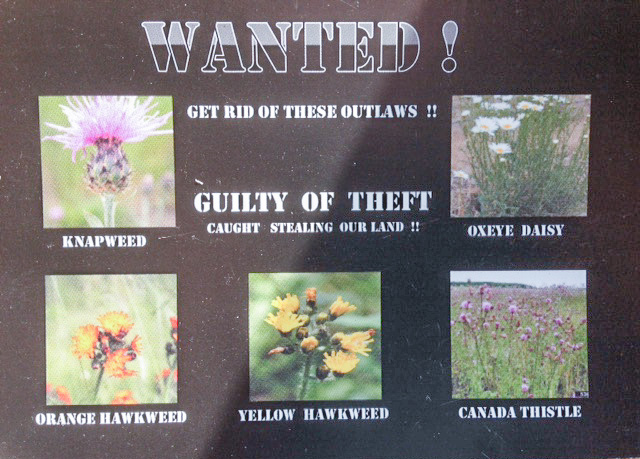 All over the North Fork, along driveways and in yards, Yellow Hawkweed has started to bloom. To the unaware, it looks like a beautiful flower, but it is actually a very noxious weed…..one of the worst weed problems in the North Fork. It spreads insidiously through its prolific seeds which can be carried afar on the wind, vehicles, boots, and animals. If untreated, a few flowers will become a thick field of yellow in just a few years choking out native wildflowers…….and it will spread to other people's property.
The NFLA Weed Committee mailed postcards to all North Fork landowners featuring the most common noxious weeds. In addition, there are free booklets at the Community Hall with pictures of various noxious weeds and how to manage them.
Yellow Hawkweed is one of the most pervasive noxious weed problems. This persistent pest can be treated by landowners, but it requires diligence.   I have been on a quest to eradicate the hawkweed from my long driveway for four years through pulling and spraying with Milestone. My goal is: No Seeds! Every flower that I see is bagged and the plant is sprayed (unless I can pull it out at the roots). I have to do this every week for about five weeks beginning now. It is not that much fun to do (I would rather be gardening or hiking or biking or floating the river), but a little work has paid off in a big way over time. The sides of my driveway are lush with native grasses and native wildflowers rather than a sea of ugly yellow spikes. Although I have these little buggers under control now, I know that I will always have a battle with Hawkweed because the seeds will be carried in on vehicles and the wind.
Milestone can be purchased in town or online. Although it seems rather expensive, a little goes a long way and it can be stored over the winter in a root cellar or in another place where it won't freeze. Sprayers can be borrowed from John Frederick in Polebridge.
If we all made an effort to control Hawkweed on our property, the North Fork would be a better place. This is one area where we can all make a difference.