Greetings, All!! As you can tell, fire season is upon us, as Lynn Ogle has pointed out.
Here is the latest monthly outlook for August, September and October.
The good news of course is that we benefited from a cold, wet June and the first half of July. The bad news is of course the hot, dry weather that has been parked over us for the past couple of weeks or so. That is forecasted to persist for a while, and we are forecasted to have a more active than normal fire season for the month of August: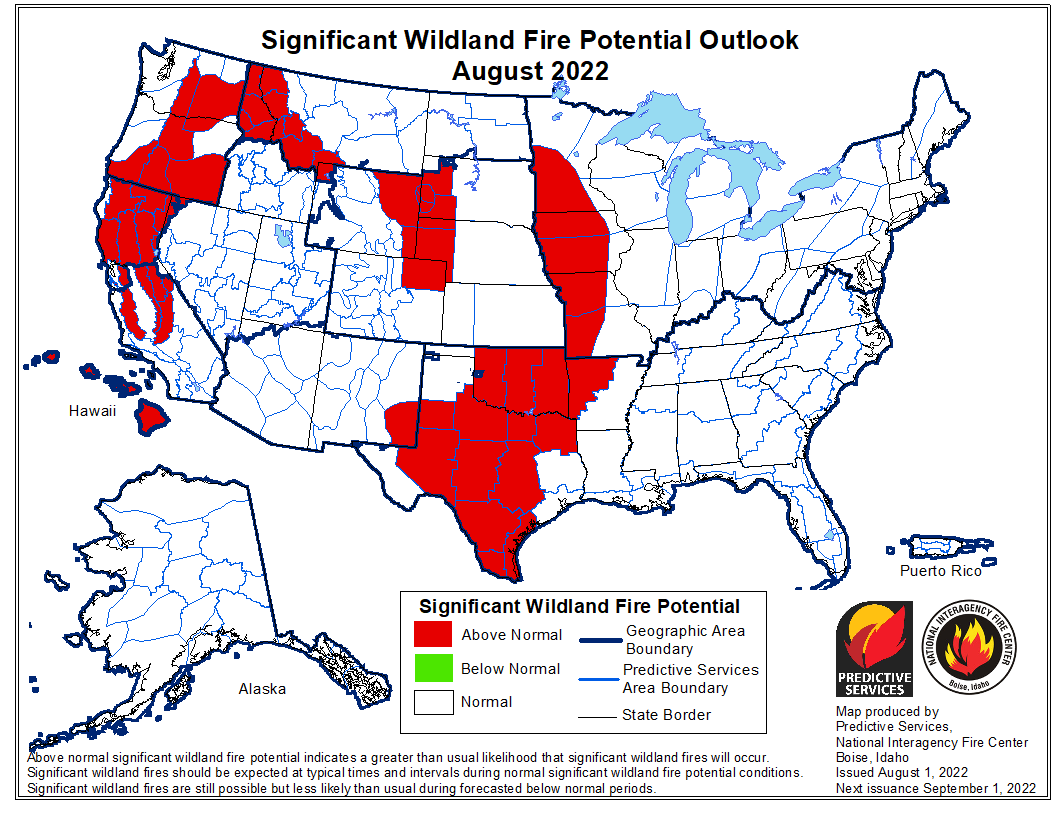 That moderates for the North Fork in September – as we see shorter days, longer nights, cooler nighttime temperatures and better humidity recovery: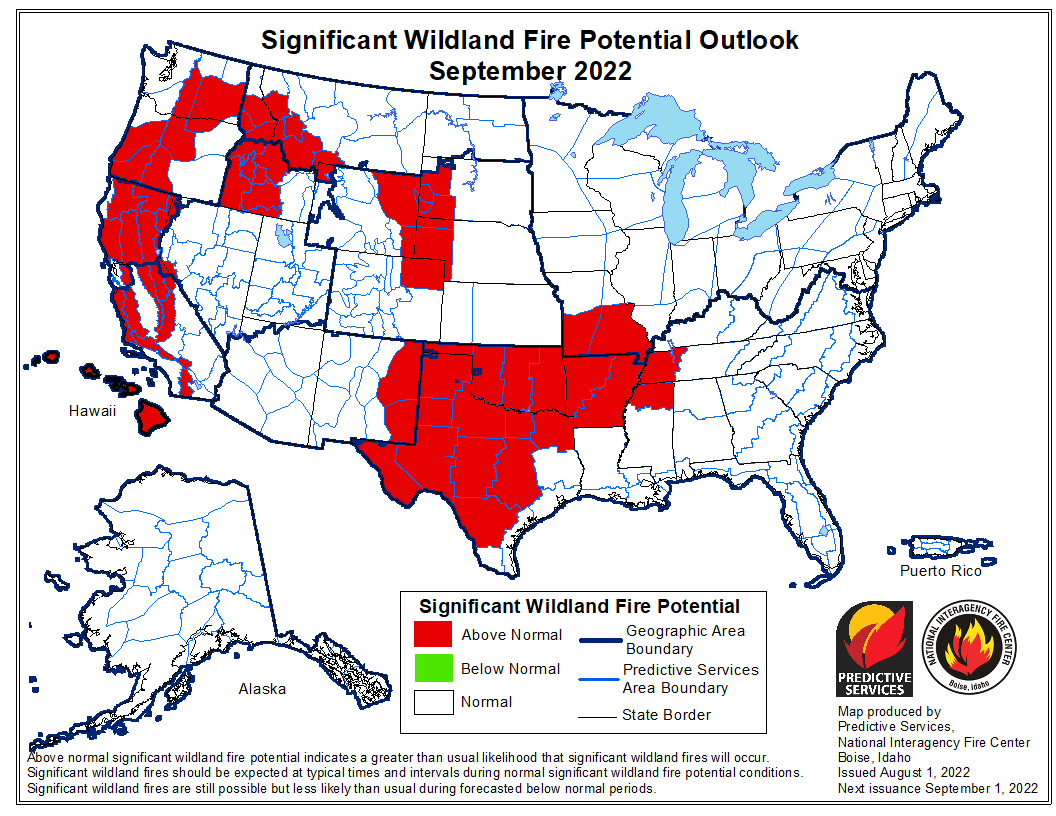 Southwest Montana will remain active, as will other areas of the country. And we know without adequate early fall precipitation, that the warm fall days and strong winds can make fires jump and run, even if conditions aren't ideal. So, no guarantees!
October does seem to bring relief to all of Montana: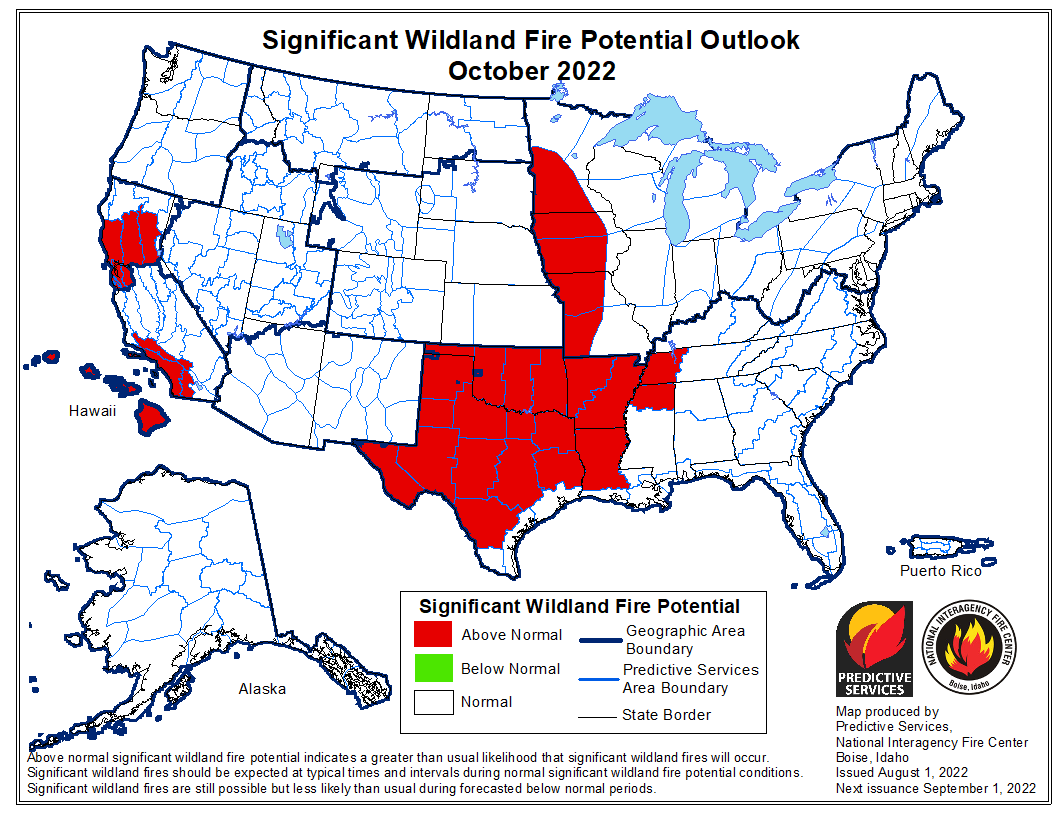 Specific to the Northern Rockies and Northwest Montana, the Outlook has this to say:
Northern Rockies: Areas along and west of the Divide are likely to have above normal significant fire potential into September, and near normal potential is expected during October and November as the geographic area transitions out of fire season. Portions of northern Plains may have above normal potential into the fall, with prolonged warm and dry periods followed by critical fire weather conditions increasing significant fire potential, especially given the areas with above normal fine fuel loading.
After several cooler than average months, the past thirty days have seen warmer than average conditions return to all the Northern Rockies Geographic Area (NRGA), though not to extreme levels, yet. North Idaho has been the closest to average mean temperatures during this period, while the southern half of Montana has been the most above normal. Precipitation during the past month has varied, across the geographical area. Most of north Idaho has been drier than average, especially closer to the Salmon River. Most of western Montana has been drier than average, especially in the southwest, as has Yellowstone National Park. West-central Montana has been wetter than average though, and this moist departure extends east across the rest of Montana into the western half of North Dakota. However, the southern third of Montana has been significantly drier than average, as has eastern North Dakota. The latest US Drought Monitor shows slight reductions in all the drought categories and areal extent in north-central to northeast Montana during the past month. The areas west of the Continental Divide and North Dakota are drought-free.
Large fire activity was minimal during the first half of July due to the cool, moist conditions over most of the NRGA through much of June, which led to slower green-up and slower than usual fine fuel curing. Large fire activity developed in the lower elevations of north Idaho and western Montana during the last ten days of July, as well as in southeast Montana, as fine fuel curing accelerated, and dead fuel moisture dropped. On July 17, the NRGA went to preparedness level two.
A significant heatwave began over the western PSAs at the end of July and will continue through early August. This will rapidly dry live and dead fuels and greatly increase fire potential to above average levels. Dead fuel moisture in most of the western PSAs are already drier than average. A pattern change seems to be occurring, with a farther westward and more northerly extent in the typical Four Corners upper-level high. This would keep the western PSAs drier and warmer than average through much of August and possibly into September. The latest Climate Prediction Center monthly and seasonal temperature and precipitation outlooks for August and the August-October periods have shifted warmer and drier than average conditions farther west, over the western PSAs.
So, any preparations for the fire season are warranted. We will have a busy six weeks or so ahead of us. I'm hoping that the moisture we have gotten in the North Fork continues to pay dividends – and that we keep getting regular shots of moisture to keep our live fuels – grasses, forbs and shrubs – resistant to burning for as long as we can.
Any questions? Remember, these are only predictions. As with all predictions, they are all in error, but occasionally useful.
Allen