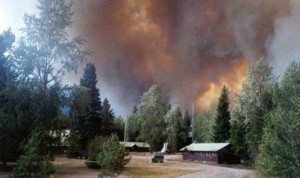 This year's Firewire Day workshop will be held on Wednesday July 13, 2016 from 9:30 a.m. to noon at Sondreson Hall, immediately preceding the Summer Interlocal meeting.
Our Firewise Day agenda includes the following items:
A video by Jack Cohen, internationally known wildfire expert at the Fire Lab in Missoula.  The video's title is "Your Home Can Survive a Wildfire," with advice about how to create defensible space around your home.
A presentation by Angela Mallon and Lucas Wells of the DNRC.  They will report on the preliminary results of their study on optimal spacing of trees in hazardous fuels reduction projects.
A presentation by Lincoln Chute, Director of Emergency Services for Flathead County.  Mr. Chute will explain the county's "Ready, Set, Go" evacuation program.  He may illustrate ingress/egress concerns with video footage from the Fort MacMurray fires.
Remarks by Andy Huntsberger, Fire Management Officer for the Forest Service's Glacier View/Hungry Horse District.  He will review the fire season forecast and resources available on the North Fork this summer.  He'll also touch on the potential for reburn in areas burned since the Red Bench Fire in 1988.
A review of the status of our hazardous fuels grants by Bill Swope and Carol Daly.  They also will address opportunities for landowners.
Tentatively, remarks by Christine Johnson, Executive Director of Firesafe Montana.  She will tell us about the Firesafe program.  The North Fork Landowners Association is a Firesafe member.