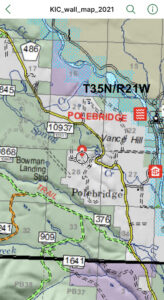 From Ryan Butler, Assistant Fire Management Officer-Operations for Hungry Horse-Glacier View RD…
Today, July 24th, 2023 we had a new start in the Vance hill area north of Polebridge. Township 34 N, Range 2W NW, NE section 28. The fire was reported around 1450 hours by Numa, Cyclone and Thoma lookouts. Size is currently ¾ acre in timber and brush. Due to the quick response of Flathead Helitack they were able to keep the fire from spreading. Currently Helitack and district fire personnel are being successful suppressing this fire.
This was a human caused fire on private, unattended campfire. Please help spread the word in the north fork community that we are in VERY HIGH fire danger and planning level 4. Fire season is well under way with no relief in sight.
The WERNER fire was declared out 07/24/23 at 1200 hours. All fire personnel are off the fire.