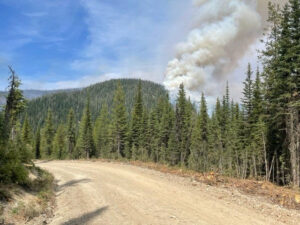 (NOTE: Unless something exciting happens with the Weasel Fire, this will be the last morning update for this blaze. Instead, I'll be passing along the official "Fact Sheet" which is usually released in the afternoon. – ww)
Summary: The Weasel fire remains active, gaining 408 acres since the last reliable estimate about three days ago.  In the U.S., the fire is 20% contained; Canada is also establishing containment lines to the east.
According to this morning's IR (heat mapping) pass, the Weasel Fire gained 408 acres since the last accurate estimate about three days ago and was estimated at 5001 acres. The fire is still active and expansion was broadly distributed. Better than half (55%) of the fire is in Canada. The fire is now 20% contained within the U.S. section; Canadian personnel have been establishing containment lines along the fire's northeastern/eastern flank to block spread into the Flathead Valley.  The blaze is currently burning in the Kootenai National Forest (19%), the far northwest corner of the North Fork in the Flathead Forest's Glacier View district (26%), and in Canada (55%). See the attached map for fire location and extent.
The US and Canada are working together to control the Weasel Fire. From the InciWeb site: Jurisdictional collaboration is occurring between the Incident Management Team (IMT) in the United States located in Eureka, Montana and the BC Wildfire Service Incident Management Team in Canada, located in Cranbrook. The two IMT's are closely coordinating on wildfire management and are sharing resources as required.
The area closure associated with the fire was finalized August 9 and includes segments of both the Kootenai and Flathead Forests. For the North Fork, this affects an area above Trail Creek Road north to the border and from the Whitefish Divide east to the Frozen Lake Road vicinity. Trail Creek Road remains open. See the attached map and closure order document. Also note that, beginning August 22, major work will be in progress in the Glacier View Ranger District on Trail Creek Road (NFS 114) that will restrict travel for about a month.
Monitor the Weasel Fire InciWeb site for additional information (https://inciweb.nwcg.gov/incident/8290/); in Canada, visit the British Columbia Wildlife Service "Weasel Creek Fire" site (http://bcfireinfo.for.gov.bc.ca/hprScripts/WildfireNews/OneFire.asp?ID=883). Also keep an eye on the NFLA website for fire-related postings.