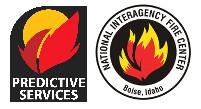 As expected, Northwest Montana continues to be projected as above normal for fire activity through August and September. We can all be glad that the moisture we got at the end of June and the first of July pushed our fire season out from becoming active in early to mid July.
But, with the current temperatures, low overnight temperature and humidity recovery, and live fuels suffering due to the combination of those factors, we can become pretty volatile pretty quickly.
The other aspect of this Outlook indicates we will have enough moisture in the air masses pushing up from the 4 Corners area to stimulate convective activity – dry thunderstorms. So, we can wind up with a lot of new starts from lightning.
Probably not telling any of you anything you don't know – but it is a good time to get those fire tools shaped up, tanks mounted in 4 wheelers, and watching the lightning maps.
Here is the link to the complete Wildland Fire Potential Outlook. As we have said before, these Outlooks are useful but there are no guarantees.
https://nflandowners.org/nflawp/wp-content/uploads/2020/08/August-monthly_seasonal_outlook.pdf